Try the ENTIRE Home Workout Revolution System RISK-FREE…
TRIPLE Your Fat Loss and Get Ripped in As
Little as 4 Minutes with Over 51 NEW,
No-Equipment Home Workout Revolution Videos
Start Today for 86% OFF the Regular Price and Only Invest the Rest
on Day 21 AFTER You've Burned Fat and Gotten Results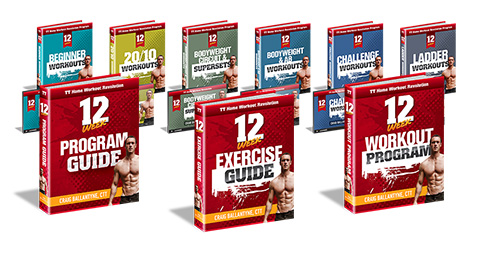 Here's the deal: we believe in this system and your results so much that we're willing to give you the ENTIRE 12-Week Home Workout Revolution System today for just $9. Then, on Day 21, only AFTER you've seen the fat burning results for yourself, you'll be billed a second one-time payment of $18.
Essentially, right now you're getting full access to every single follow-along workout in the 12-week program PLUS a Essentially, right now you'll get full access to every single follow-along workout in the 12-week program (74 workouts in total if you include the bonuses). PLUS you'll also get a simple nutrition plan that you can use no matter how busy your life is today.
So go ahead, prove to yourself that it works. And only if you experience what's promised: triple the fat loss results while getting ripped at the same time, and all in as little as 19 minutes, 12 minutes, or even just 4 minutes, will you pay the remaining balance of $18. And if you don't, well, you'll pay NOTHING. Simply contact us at support [at] HomeWorkoutRevolution.com to cancel and we'll refund your order.
Click 'Add to Cart' Below to Get Started For 86% OFF!
[sc:add_to_cart_9-27]
Here's what you'll get in the Home Workout Revolution System:
51 Follow-Along NO-Equipment Home Workouts

You'll burn more fat in less time with these proven workouts that use the Ultimate Fat Loss Key. Not only that, but you'll be going through each set and rep under the instruction of a Certified Turbulence Trainer – and doing many of the works along with me and I battle through the program with you. It's like having the entire Turbulence Training Team in your house training with you as your workout partners. The workouts can be watched on your computer, iPad or iPod, for an amazing workout done anywhere, anytime.

---

The Home Workout Revolution Program Guide

Not only will you have 51 done-for-you workouts, but you'll also receive a 12-week schedule that will show you exactly what workouts to use on what days. It doesn't get more done-for-you than this. All you do is press play and burn fat.

---

The Home Workout Revolution Exercise Guide

But there's more to it than just the exercises. Inside this bonus manual, you'll discover not only the exercise photos and descriptions, but you'll also learn how you can use these workouts with YOUR favorite workout program. That's right. If you have a favorite workout program, you don't have to give it up. I'll explain how you can use the Home Workout Revolution System and the Ultimate Fat Loss Key to enhance the fat burning effects of your current program for faster results.

---

The Strength & Muscle Accelerator Workout Videos

You'll get three more follow-along workout videos where you'll discover EXACTLY what to do if you also want to build strength and muscle mass to go along you're your rapid fat burning results. You'll discover the power of the "Anabolic Trio" and more to chisel lean, sexy muscle while dropping belly fat. And YES, these workouts also use the Ultimate Fat Loss Key.

---

The Ultimate Fat Loss Key Nutrition Plan

It's not your fault that past nutrition plans have failed you. They were far too complicated and hard to follow.

Thankfully, you can also put the Ultimate Fat Loss Key to work for you in your fat burning diet. This simple nutrition plan is so easy to follow that you'll be able to use it no matter how busy your life is today. You won't have to prepare 6 meals each day and haul around a cooler at work. Instead, you'll discover how to enjoy your favorite foods without the guilt (or the belly fat).

You'll shed fat fast with a powerful combination of these workouts and this easy-to-follow, but aggressive nutrition plan that will shed even the most stubborn fat.

---

4-Minute Metabolic Miracles & 6-Minute Six-Packers

Whether you're short on time or you just want to take your workout to another level, these FOURTEEN 4-minute miracle workouts are guaranteed to put maximum metabolic stress on your muscles for a killer post-workout calorie after-burn.

You'll also get SIX 6-minute six-packers you can add to the end of your workout or use as an off-day workout to chisel rock hard abs and a rock solid core. No crunches. No sit-ups. Just 6 minutes of the most effective ab-shredding exercises.
---
Many Programs Work IF You Give
Them Enough Time, BUT…
…All other metabolic "at home" workouts require a significant investment in additional fitness equipment simply to perform workouts (e.g., dumbbells, pull-up bars, yoga blocks, all conveniently sold by the same company that sold you their at-home workouts).
Here's how the TT Home Workout Revolution (HWR) System stacks up against popular as-seen-on-TV methods: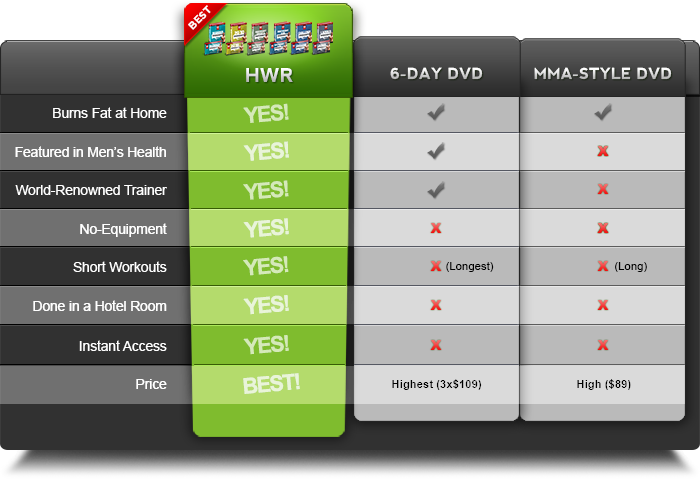 But the most important problem with other programs is that they don't take maximum advantage of the Ultimate Fat Loss Key.
Sure, you'll get results if you stick to the 60-minute workouts done six days per week, but remember what the research shows about shorter workouts. If you cut the workout time in half, you'll also get incredible results.
And with those long workouts come a HUGE increase in the number of people that drop out of those programs for many reasons.
BIG PROBLEM #1: The workouts are too long
First, they just don't have the time to commit to 60-minute workouts. There are kids to feed and get off to school, a commute to deal with, and an overbearing boss to please that demands overtime.
All of these cut into the hour demanded by these fitness experts for their programs to work. But you don't need an hour when you have the Ultimate Fat Loss Key.
BIG PROBLEM #2: The workouts are too frequent
The second reason dropout increases with these other programs is because you have to exercise a LOT – up to 6 days per week for over an hour – just to get these excessive programs to work.
Sure you can find an hour twice a week (often on weekends when you'd rather be doing other things), but six times a week? Forget it. You just don't have the time or desire to be working out that much.
You're not a pro athlete that doesn't have a 'real' job or that has to do the grocery shopping for a family. You live in the real world, not in La-La-Land like the guru's Hollywood clients.
BIG PROBLEM #3: The workouts lead to overuse injuries
And finally, and perhaps most frustratingly, a third reason that men and women just like you drop out of those hour-per day, six-days-per-week programs is because they get an overuse injury – that happens when you do the same thing over and over and over again and your body wears out.
When you train that often with that much exercise (usually using moves that should not be done over-and-over-again), you're going to get hurt.
The only people that really benefit from these excessive programs are those in the health care field.
As one of my friends, a chiropractor, said to me, "Yeah, I love (name of high-volume, long-workout fitness program withheld). That program sends me so many injured clients because they do too much exercise too soon. My clinic wouldn't be so busy without it.."
That's NOT the kind of reputation you want about your workout.
The bottom line is that you simply do NOT need to train six hours per week to lose fat and get ripped, and you won't ever have to again, once you understand the Ultimate Fat Loss Key and put it to work to boost the metabolism in your body.
But Wait, There's Still One More Reason…
Now that you know the reasons to avoid working out so much (and you've likely had that feeling for a long time prior to reading this article), there's still one more argument to make in the case for only using workouts based around the Ultimate Fat Loss Key.
You see, other comparable systems (and they are only modestly comparable) will set you back more than the price of a yearlong gym membership.
One program costs THREE payments of over $109. Another costs $89.95 PLUS shipping. These prices make it no better than hitting up a gym membership to use cardio machines each month.
But when you start with the Home Workout Revolution System, you won't pay $109, and you certainly won't make three payments. But neither will you pay $89, and you won't even have to make two payments. Heck, you won't even have to make one payment of $67.
Instead, you'll get to try the COMPLETE Home Workout Revolution System for just $9, and only invest the remaining $18 on Day 21 AFTER you've burned fat and gotten results.
[sc:add_to_cart_9-27]
What Kind of Results Can You Expect to Achieve?
I love the fact I can do it anywhere
I am really enjoying HWR and feeling fitter and stronger with every workout. I love the fact I can do it anywhere…At home with no equipment, if I'm traveling for work or at the gym using weights for the strength and muscle accelerators.
Tom from Hong Kong
I really enjoy the HWR workouts
I really enjoy the HWR workouts. They get me huffing and puffing in no time and I don't leave the house.
Naeem Sader
Anywhere I have my computer or even IPhone, there is a workout waiting.
Your HWR program is awesome. I thought I had to go to the gym to get in shape. Since getting your program, the world of compact, fun (but hard!), interesting and, oh, so effective workouts has opened to me. No more excuses. I have heard this so many times but finally feel it is applying to me. Anywhere I have my computer or even IPhone, there is a workout waiting. This program has given me the kick in the butt to finally commit. This follow-along program makes all the difference. Now I WANT to work out. Getting off the couch was such a chore before. Now I look forward to it. Thanks for the great program!
Lisa Zuk
Craig, you are a life saver!
Craig, you are a life saver! Being a busy working mom I don't have a lot of time to work out or go to the gym. I tried P90X, Taebo and many other workouts but can never stick with it because of the length of the program. Additionally, in most cases I had to exercise almost every day and I thought 'Where is my life?'. I was never as excited as I am now because of your follow-along videos. When started the workouts my muscles were sore but I loved it. I am into my 2nd week of performing the exercises and I already have some definition in my thighs and abs. I lost 4lbs last week too. I look forward to doing these exercises because of the variation in length; they are not long and I feel as if I worked out for an hour and the fact that you are there sweating it out with me. I intend to continue until the 12 weeks are up and beyond that because they truly rock. I can't wait to to show off my new body after 12 weeks. Thanks Craig.
Annmarie from Trinidad
Your workouts are generally more time efficient
I've also done P90X and some of Tony Horton's other programs which I've enjoyed but your workouts are generally more time efficient. Enjoy your e-mails and personal stories as well.
Dan Calabrese
She Built Movie Star Arms and Did Her First Chin-up
"Craig's workouts were fun and challenging – and I wasn't overly sore after our sessions. And my co-stars couldn't believe how great my arms looked thanks to Craig helping me do my first chin-up. Thanks Craig!" – Rachel Nichols, Actress, Model
I can remember thinking at the time that the bodyweight training didn't look very hard and I wondered whether I would get a sufficiently intense workout just from that form of training. Anyway I decided to try them and I can't believe how effective they are. What I love about them is the intensity of the workout combined with time efficiency and you don't need to visit a gym to do it.

P.S. I live in Australia and many people attending the gym I go to are doing the same old traditional workouts, particularly the females (no weights, only long slow cardio). I actually feel sorry for them (the guys included) because I've been there and done that & it wasn't very effective. Now I have Turbulence Training and it makes all the difference." – Joy Dondey
"Bodyweight exercises are deceptively hard and have gotten me the strongest I've been in my life. I can't thank you enough for all your great programs, exercise and health tips." – Lisa Grivers, Personal Trainer
Skeptical Former-Bodybuilder Gets "Pump" at Home
"At first I was skeptical about trying Craig's Bodyweight program, but man was I surprised! The workout was a refreshing change from going to the gym (I did it at home in my living room) and the exercises were very challenging, you'll be surprised at the pump you get from doing an entire workout with only your body as resistance." – Brad Pilon, EatStopEat.com
Exercise Physiologist, Dr. Phillips, Uses Bodyweight Workouts for an Awesome Cardiovascular Challenge
"The bodyweight workouts provide an awesome cardiovascular challenge as well as a big shock for your muscles. They work, they're based on good science and good planning. Bodyweight workouts are great when I can't make it to the gym or I'm traveling and have to work in some crummy hotel gym. This fall I found myself in St. Louis in a hotel with an old squeaky multi-station Nautilus machine and two broken exercise bikes, so I thought a bodyweight workout might serve as a welcome but 'mild' alternative to the usual turbulence workouts; yeah, big surprise! I could hardly move after doing the workout and had to do my presentation that morning on legs of jello with my arms shaking like a sewing machine!! Man the workouts are awesome, keep 'em coming." – Stuart M. Phillips, Ph.D..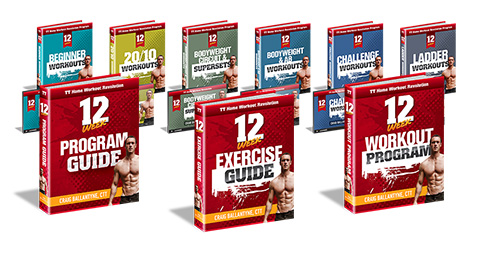 [sc:add_to_cart_9-27]
Unlock the secret to fast fat burning with the Ultimate Fat Loss Key today,
Craig Ballantyne, MS, CTT
Creator, Turbulence Training Certification,
Men's Health magazine contributor
Oxygen magazine fitness advisor
P.S. There have been some great programs out there, but NONE of them have this ONE ultimate fat loss key to shed MORE fat in less time. Try them out today for just $9.
P.P.S – Research shows you can burn fat in just 19 minutes, 12 minutes, or even just 4 minutes. And now you can do it in the comfort of your own home using the 51 follow-along home workout videos AND fourteen 4-minute metabolic workouts that you'll get in the Home Workout Revolution System. Start burning fat today and you could win $1000 of my money just for losing your belly fat!
P.P.P.S – These proven workouts are shorter, yet MORE effective just because they use the Ultimate Fat Loss Key. You can have this key as well… and unlock the fat-burning machine that is inside of you. It's always been there – you just didn't have the key to unlock it… until now. And you're results and complete satisfaction are guaranteed – or we'll give you every penny back. That's the Ultimate Key guarantee that you won't get anywhere else.
NOTE: Home Workout Revolution is a series of manuals in PDF and videos. No physical products will be shipped. After you order, you will get INSTANT ACCESS to download and view all the files onto your computer. The manual format is adobe acrobat PDF, which can be viewed on Mac or PC. All videos are .mp4, which is one of the most commonly used video storage formats.