Wait… Your Metabolism is Not Fully Accelerated!
(Order Step 3)
Do not hit the "Back" button as it will cause errors in your order.
Lose Fat Even FASTER with the Home Workout Revolution Metabolic Accelerator Done-For-You System and Save BIG!
Sometimes you just want things all mapped out for you; do this, do that, eat this, eat that… and that's exactly what you'll get in the Home Workout Revolution Accelerator Package – 8 weeks of over 30 mouth-watering, done-for-you daily Metabolic Meal Plans.
You'll ALSO GET 34 metabolic fat loss shakes that take just minutes to make, but satisfy for hours. And not only that, you'll even get what I think is the coolest part of this entire package – 15 MORE done-for-you follow-along Metabolic video workouts. Let's have a closer look at what this package looks like.
Component 1: 8 Weeks of Done-For-You Metabolic Meal Plans

These daily meal plans were built specifically to coincide with all our recommendations in the Diet Revolution Manual, but in completely done-for-you format.

From the minute you wake up until the minute you go to bed, you'll get 8 full weeks of meal-by-meal guidance to eliminatethe guesswork and save you the time and hassle of planning your meals. No thinking required – we've already done it for you!

---

Component 2: TT Metabolic Fat Loss Shake Recipes

In this manual you're going to get more than great tasting, dessert-like milkshake recipes like Chocolate Cherry Cheesecake, Strawberry Ice Cream, the Craig Ballantyne "Ultimate Checklist Shake", Chocolate Almond Banana Bomb, and Chocolate Peanut Butter and Jam.

Whether you're in a hurry and need something quick and satisfying or you're post-workout and need something to facilitate your fat loss workout recovery, these delicious done-for-you metabolic shake recipes are the perfect way to ramp up your metabolism while adding a healthy dose of nutrition at the same time.

---

Component 3: 15 Follow – Along Video Workouts

In this component, Certified Turbulence Trainers, Mike Whitfield, Brian Kalakay, and I, will take you through 15 MORE advanced fat-burning follow-along workouts, including 10 Metabolic Finishers workouts and 5 Metabolic Conditioning workouts.

You'll also get the 8-Week Metabolic Accelerator Manual to show you exactly how to use these specific workouts in your fat burning plan. And as with the other follow-along videos, these can be either streamed online or downloaded to your iPod, iPad, iPhone, or Android device.
---
Because we know just how much faster these tools will speed your fat loss, we're going to offer you the entire Done-For-You Accelerator Package not for $67, but instead at over 50% off the retail price.
$19.95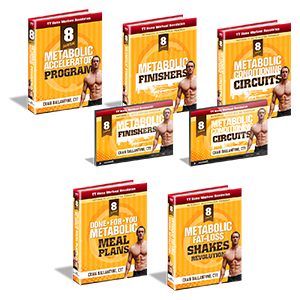 Yes! Add the Home Workout Revolution Metabolic Accelerator
Done-For-You System to my order at a full 55% OFF, just $19.95!
No thanks. I understand that this is my only opportunity to get access to this information and I'm okay with missing out, even at today's HUGE discount. I understand that after declining this offer, the TT Home Workout Revolution Metabolic Accelerator Done-For-You System will never be made available to me again at any price, even if I wish to pay more. I will pass on this forever.