Wait… Your Metabolism is Not Fully Accelerated!
(Final Order Step)
Do not hit the "Back" button as it will cause errors in your order.
[sc:upsell3_vsl]
Gain 84 MORE Hours of Fat Burning Every Single Week and Literally Burn Fat EVERY Minute of Every Day with the 24/7 Fat Loss System
If you want the over-the-top, absolute best results you could possibly get from any workouts in the world, then this is the ULTIMATE plan for you. Let's have a look at what you'll get below.
Component 1: The Complete 8-week 24/7 Rapid Fat Loss System

You'll get the entire 24/7 Fat Loss System, including the Diet Manual that Joel Marion, 5-time best-selling author and co-founder of BioTrust, specifically designed to work hand-in-hand with the 24/7 workouts.

That means you'll have a full-on "specs" manual that details everything you need to know about the diet, including what to eat, when to eat it, detailed food lists, charts, tables, FAQs, and more…

---

Component 2: 24/7 Fat Loss 8-Week Follow-Along Workout Videos

With the 24/7 Fat Loss System, our most advanced fat loss option, you'll get 12 weeks of follow-along workouts using minimal equipment – just a bench, a stability ball and a set of dumbbells.

These metabolic workouts areperfect for you if you're interested in using dumbbells to MAXIMIZE your fat burning potential while gaining even MORE muscle at the same time – all while maintaining the convenience of working out from home.

Best of all…these workouts can be used in conjunction with your Home Workout Revolution workouts. Just follow the instructions under "How to Combine MRT with Metabolic Density Training" in our Home Workout Revolution manual and BAM, you're ready to go!
---
As you can see below, the MRT Booster Package is utterly massive. And it just so happens to be the BEST deal of all the Accelerator Packages offered, saving you over 84% off the regular price.
$127 $19.95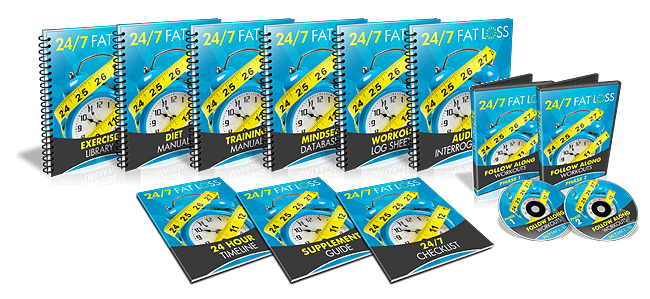 Yes! Add the 24/7 MRT Booster Package to
my order at a full 84% OFF, just $19.95!
No thanks. I understand that this is my only opportunity to save $100 on the 24/7 Fat Loss Metabolic Resistance Training System and I'm okay with missing out on this one-time discount. Instead, if I wish to access these 24/7 workouts, I'll pay the non-discounted retail price of $127. I will pass on this one-time $100 discount.